Buffalo Wild Wings – Kirkwood, MO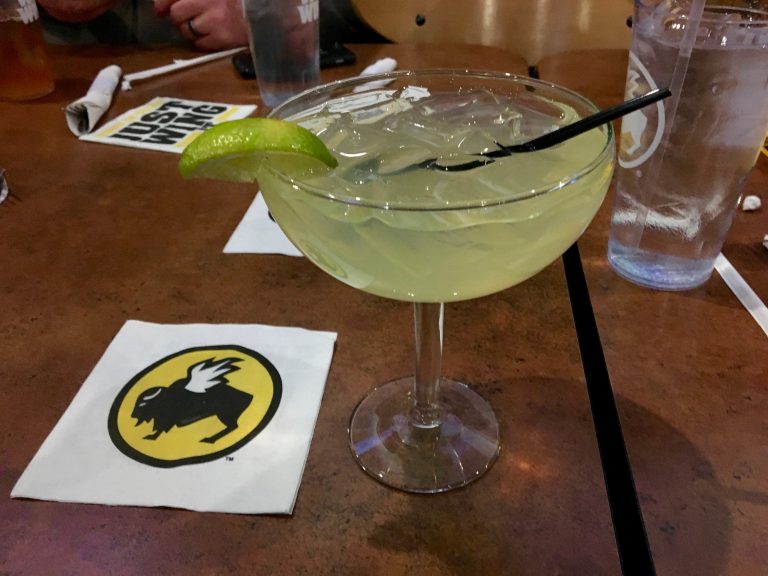 One would not normally equate a chicken wing joint with having a good Margarita. However, I'm happy to say that the Primo Margarita at Buffalo Wild Wings does not disappoint!
First off, though, I must brag a little. I took the Buffalo Wild Wings Blazin' Wings Challenge a few years ago and totally nailed it. Basically, you must eat 12 of the spiciest wings served at Buffalo Wild Wings in 6 minutes or less. For me the spiciness wasn't the hard part – although, yes, the Blazin' wings are quite spicy! The hard part was simply chewing and swallowing that much meat in less than 6 minutes! A video of me taking the Blazin' Wings Challenge is at the bottom of this post. But back to the Margarita.
The menu stated that the Primo Margarita was made with Patron Silver and Cointreau. Certainly that is a good start, but the proof is in the pudding … er, Margarita. The overall flavor was good and smooth. It had a slight bit of an artificial flavor, but otherwise it was very tasty. So much so I had no qualms ordering a second. The Margarita I had that night at Buffalo Wild Wings rated an 8 on my scale. So if you're at Buffalo Wild Wings and you are craving a good Margarita, do not hesitate to order the Primo Margarita.
And if you want to know about the Blazin' Wing Challenge, here is the video of me doing it a few years ago: