Canyon Cafe – St. Louis, MO (Grand Canyon Margarita)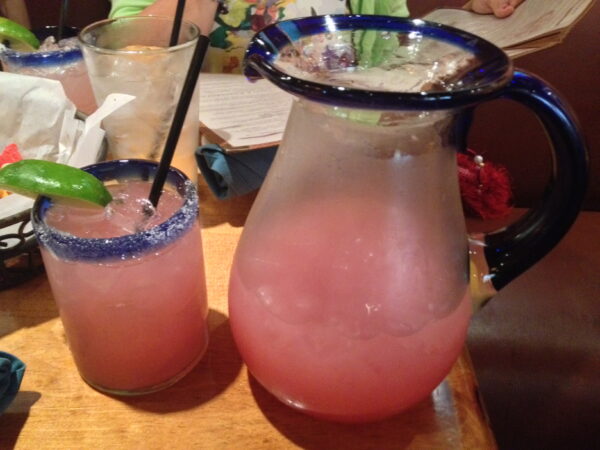 For Cinco de Mayo, I wanted to visit a place we hadn't been in probably 2 years. Canyon Cafe is a Southwest-themed restaurant with top-notch food and tasty Margaritas. I remembered that they had a great house Margarita they called the "Grand Canyon". So we ordered a pitcher this afternoon.
Incidentally, Canyon Cafe claims they have the best Margaritas in St. Louis. Our waitress claimed that they actually won some contests with their speciality Margaritas. Plus they have many more house Margaritas. So I'll be back to sample another one of Canyon Cafe's Margaritas soon enough.
The Grand Canyon Margarita is made with cranberry, lime, and orange juice for the tart/citrus flavors plus Prickly Pear Cactus Juice to add sweetness. I could tell the cranberry juice adds some extra tartness, which I really like. The Prickly Pear Cactus Juice adds a particular sweetness that is unique to any Margarita I've ever tasted. Overall, the flavors are well balanced and the Margarita is very easy and pleasant to drink. My only nitpick is that there isn't much of a tequila flavor in this Margarita, but it's only a slight detraction. I give it an 8 out of 10.
Like I said, I'll be back. There are too many other Margaritas to ignore at Canyon Cafe!