La Fonda – Edwardsville, IL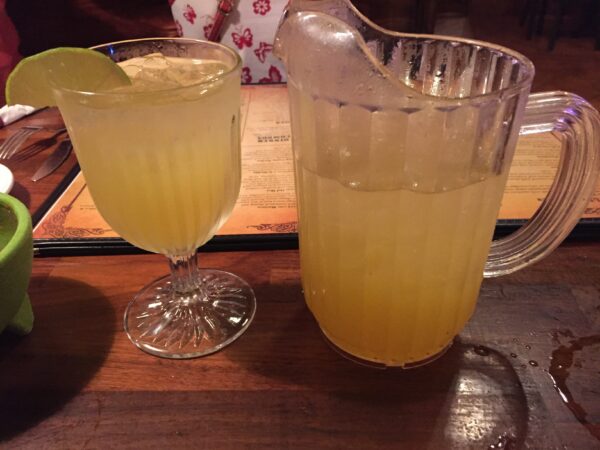 I can't remember exactly when La Fonda opened in Edwardsville. I want to say it was almost 20 years ago. Looking back, it was the first of what was about to become several Mexican restaurants to open up in my hometown. When it first opened I would eat there fairly often. As more places opened up, we started visiting others and eventually started frequenting El Maguey almost exclusively. However, the other day my wife and I decided to mix things up and give La Fonda a try again. Of course, the fact that I wanted to sample one of their Margaritas and add it to this blog was a factor in our decision!
One of the things that I remember about La Fonda's Margaritas from way back was the fact that they were inconsistent. I recall that often I would like their Margarita on a particular night, only to not like it quite so much the next time. But time has passed so I was curious what I would find on this night. We ordered a pitcher of their house Margarita and gave it a try. For the most part, it wasn't a bad Margarita. However I would describe it an average Mexican restaurant Margarita. I could tell it was made with a mix, it was a bit on the sweet side, and the quality of the ingredients just didn't stand out. For most people, this would probably satisfy them as a drink they would expect to go along with average Mexican food. But it doesn't set itself apart as a Margarita to seek out. I give La Fonda's Margarita on this night a 6.5.
Granted, this was just a house Margarita. It is possible that requesting a better quality Margarita might produce better results. But from what I've experienced so far, if an establishment doesn't take their house Margarita very seriously, better quality Margaritas just aren't really worth it.