The Frisco Barroom – Webster Groves, MO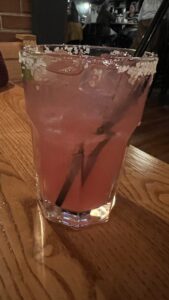 I had an opportunity to have a dinner with a friend at a place called The Frisco Barroom in Webster Groves. And since they had a Pricky Pear Margarita listed on their menu, I of course took the opportunity to sample it.
Unfortunately, it was not a great experience. The drink was excessively sweet and did not have any lime flavor. Basically it was just a really sweet, fruity drink. And because it was excessively sweet it really wasn't all that pleasant to drink. So unfortunately I can only give the Prickly Pear Margarita at The Frisco Barroom a 6. However, the food was good and the restaurant was really nice. So I encourage you to visit The Frisco Barroom but maybe steer clear of their Prickly Pear Margarita unless you like crazy sweet fruity drinks.